For about 18 years, Talia's Steakhouse has continuously reinvented the strictly Glatt kosher restaurant as a hip, modern place, where everyone will feel welcome: from Chabad and Satmer Chasidim to Modern Orthodox, secular Jews, non-Jewish customers and all other ethnic groups, Talia's has something for everyone. With so many repeat customers and fans, it's no wonder that Talia's Steakhouse has built such a "Haute" reputation. As one customer puts it: "You oughtta be the best, most progressive-still-frum place".
Talia's appeal reaches far outside of its Upper West Side location with its two unique dinner and brunch menus offering a gourmet selection of prime rib, filet mignon, duck, whole branzino, homemade hummus, Belgian waffles, shakshouka, non-dairy tofu cheeseburger and more. Where else can you sip a cocktail at midnight while catching a cool breeze at Talia's Outdoor Cafe or enjoy a ball game on a large screen TV while eating a delicious, mouthwatering kosher steak.
Talia's is a great Manhattan kosher restaurant to take your wife or girlfriend out to dinner. Enjoy the romantic atmosphere, dimly-lit, candles and fresh roses on each table, mellow live music and a wonderful blend of American and Middle-Eastern cuisines. She will be talking about her special evening for weeks to come. In addition, Saturday nights all year round, Talia's transforms into a romantic kosher lounge where people from all over come to reconnect with old friends and meet new and exciting people.
Talia's proudly earned the "A" letter grade from the NYC Department of Health.
What makes Talia's different from other New York City kosher restaurants?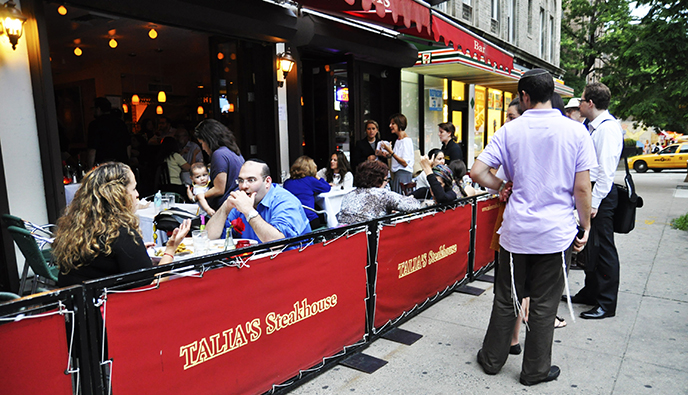 Talia's large sidewalk cafe is the best spot to dine during the summer. Enjoy beautiful weather while sipping on your favorite cocktail as you people watch on Amsterdam Avenue.
---
2) Open for Pre-paid Friday night Shabbat dinner and Jewish holiday meals.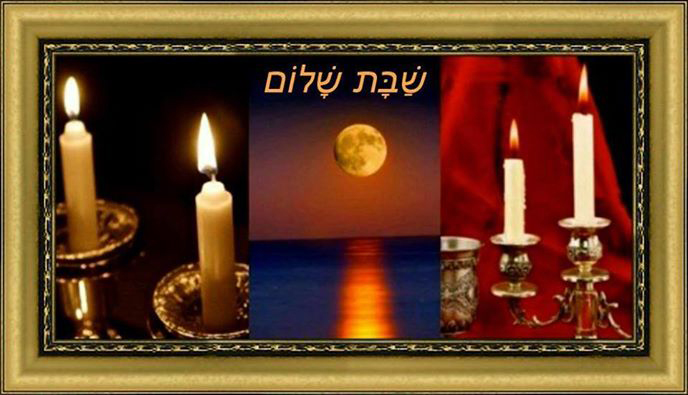 For almost 16 years, Talia's has been providing its customers with Glatt kosher, prepaid, prix fixe, Friday night Shabbat dinner and Jewish holiday meals. Enjoy challah, wine and delicious cuisine without having to clean up after!
---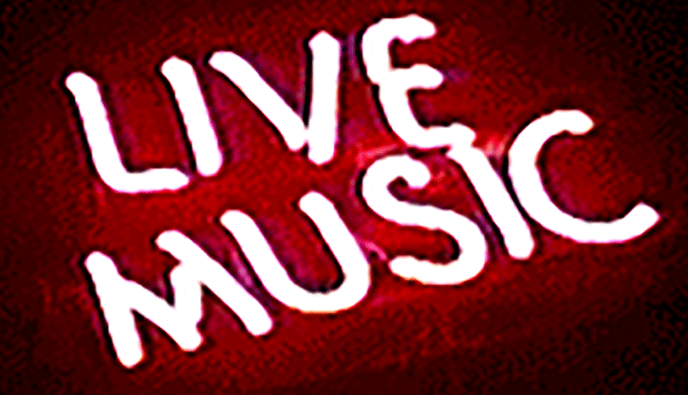 Talia's enhances your dining experience not only through excellent cuisine and various deals, but also by providing live music with no cover charge every Tuesday, Thursday and Saturday nights. So enjoy the conversation with your friends and family or just rock out to your favorite mellow soft rock, jazz or blues tunes.
---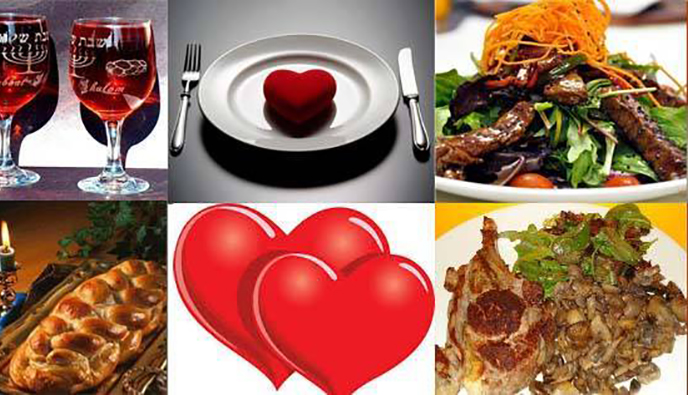 Talia's dining room is dimly lit with a red rose and candle on each table, making it the ideal spot to bring a romantic date, or maybe even meet someone new!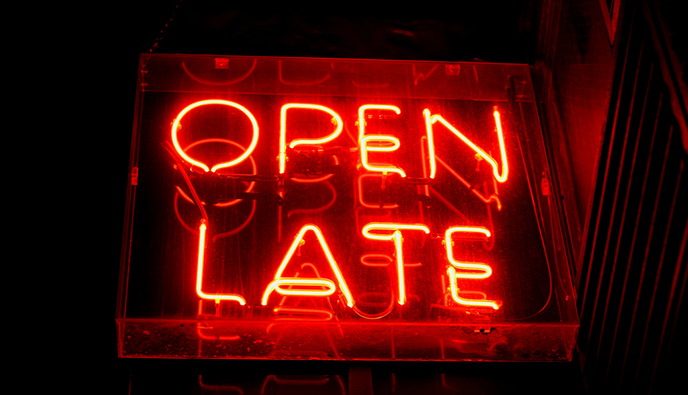 While most restaurants close their kitchen at about 10:30 pm, Talia's closes its kitchen at Midnight. Remember, on Saturday night, Talia's is open all night, starting about one hour after sunset until 4:00 AM. So, if you are looking for a late Saturday night kosher restaurant in Manhattan, then Talia's is your ideal spot.
---
6) Talia's is Open 1 Hour After Shabbat Even In The Summertime
No matter what time of year, Talia's is open Saturday nights about 1 hour after Shabbat till 4AM with live music.
---
7) We LOVE Kids! Your Ideal Restaurant For Budget-Conscious Families.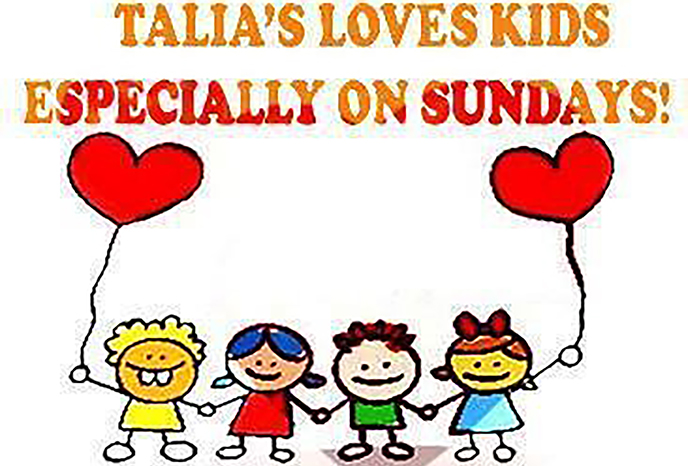 In addition to embracing typical kids menu items, our menu targets kids with smaller portions of premium steaks, fresh fish, locally-sourced health foods and ethnic flavors that are usually the domain of adult palates. We are dedicated to giving children ages four and over their first taste of fine dining and expanding their gustatory and taste horizons. Your kids will be introduced to new foods, such as, non-dairy cheeseburger, non-spicy Moroccan salmon, Israeli salad, hummus, babaganoush, baby chicken skewers, falafel and more. Don't just stay home and never go out; your kids need to learn how to behave in public.
---
Reservations
COME AND ENJOY THE HOSPITALITY & FOOD AT