Sukkot 2017 will begin in the evening of Wednesday, October 4
and ends in the evening of Wednesday, October 11.
For over 15 years, Talia's Steakhouse and Bar has been offering prepaid Sukkot delicious lunch and dinner. Talia's Steakhouse & Bar, the premier Glatt Kosher restaurant located on the Upper West Side of Manhattan, NYC, is offering pre-paid, prix fixe Glatt Kosher Sukkot menu options: $39, $43 and $58 – all inclusive (plus sales tax). The energy, romantic ambiance, and Glatt Kosher gourmet cuisine at Talia's Steakhouse & Bar make it the ideal spot to celebrate Sukkot. It is non-communal dinner with private tables for you and your family and friends.
Bring your friends and family and enjoy Yom Tov meals under the sky at Talia's outdoor cafe, weather permitting.
Since Jewish law allows cooking on Yom Tov, which doesn't fall on Shabbat, you can indulge in a sizzling steak right off the grill while sipping mixed drinks from Talia's full bar such as vodka cranberry, apple or chocolate martinis, cosmopolitans, etc.  Sukkot dinner includes challah roll, apple and honey, wine for kiddush and unlimited soda, coffee or tea.
Yom Tov Dinner Menus – October 4th and October 5th:
Eve of the first and the second night of Sukkot
5:00 PM – 11:00 PM – Dinner
Option One: $43 plus tax – Click Here
Option Two: $58 plus tax – Click Here
Yom Tov Lunch Menu – October 5th and October 6th:
12PM – 3:00PM – Lunch
Option One: $39 plus tax – Click Here
Option Two: $58 plus tax – Click Here
Friday Night Shabbat Dinner Menu – October 6th:
Dinner Menu Option 1: $43 plus tax – Click Here
Dinner menu Option 2: $58 plus tax – Click Here
Dinner Menu Option 3: $69 plus tax – Click Here
Saturday – October 7th- Lunch – Closed
Saturday Night Dinner with Live Music – October 7th – Shabbat ends at 7:08pm.
Talia's Bar will be open about 30 min after Shabbat.
Talia's will serve dinner at about 1 hour after Shabbat
Special Chol Hamoed Lunch and Dinner Menus Will be served at Talia's large Sukkah.
Menus subject to change without notice. Reservations are not confirmed until payment is received. Call 212-580-3770 to make a reservation and provide a credit card as well as entree choices. We will accept a maximum of three credit cards if you would like to split your reservation with your table.
Since Jewish law forbids the distribution of money on Shabbat and Jewish holidays, gratuity is banned. Talia's Steakhouse's catering servers are fully compensated for such religious events and/or for all on and off-premises catering, banquets, special prix fixe functions and package deals. Prices charged are all inclusive and no part of the price is purported to be a gratuity. Only sales tax shall be added to the bill.
Please note that any cancellation for a prepaid meal must be made at least 24 hours before the start of Shabbat or Jewish holidays  to obtain a full refund. You shall not be entitled to any form of any refund or credit if you made cancellations at a later time, whether due to a change in plans, illness, act of God, etc.
---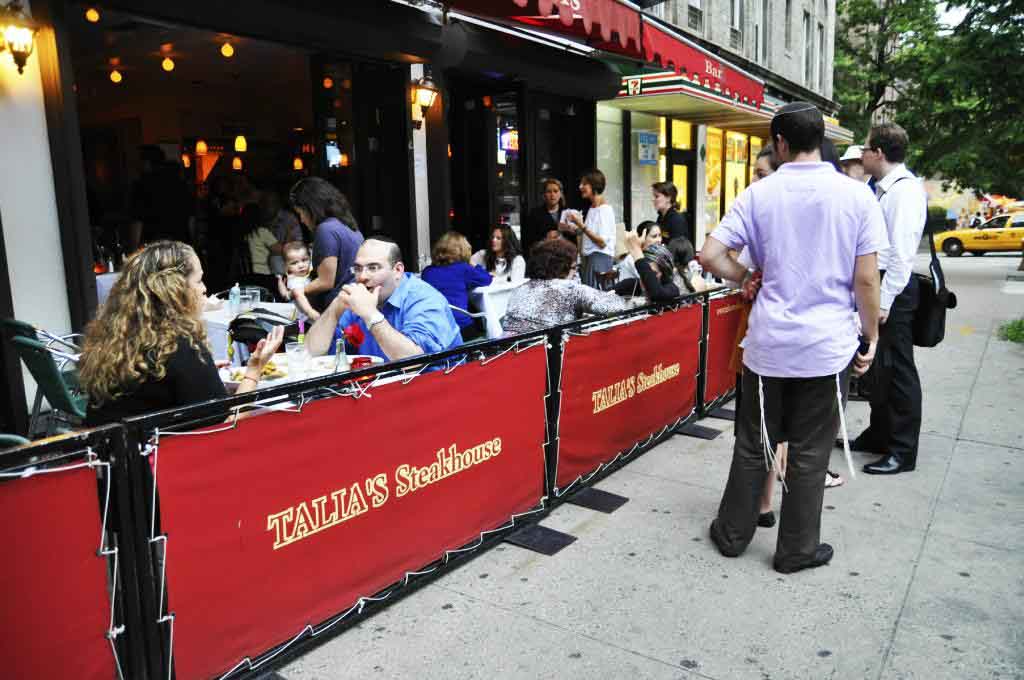 If you would like to prepay for wines and beer, please review Talia's wines and beer list – Click Here
If you are looking for Talia's nearby hotels and/or shuls, Click Here
---
What is sukkot?
Sukkot (Hebrew: סוכות or סֻכּוֹת ) is a biblical holiday celebrated on the 15th day of the month of Tishrei (variously from late September to late October). It is one of the three biblically mandated festivals (Shalosh regalim) on which Hebrews were commanded to make a pilgrimage to the Temple in Jerusalem. It follows the solemn holiday of Yom Kippur, or the Day of Atonement.
---
The holiday lasts seven days (eight outside of Israel). The first day (and second in the diaspora) is a sabbath-like yom tov when work is forbidden, followed by Chol Hamoed and Shemini Atzeret. The seventh day of Sukkot is called Hoshaana Rabbah ("Great Salvation") and closes the period of Divine judgment begun on Rosh Hashanah. A special observance is the aravah–the taking of a bundle of willow branches. The Hebrew word sukkōt is the plural of sukkah, "booth or tabernacle", which is a walled structure covered with skhakh (plant material such as leafy tree overgrowth or palm leaves). For seven days and nights, we eat all our meals in the sukkah and otherwise regard it as our home.
---
The sukkah is intended as a reminiscence of the type of fragile dwellings in which the Israelites dwelt during their 40 years of travel in the desert after the Exodus from slavery in Egypt. On each day of the holiday, members of the household recite a blessing over the lulav and etrog (Four species). Our sages in the midrash tell us that the Four species represent the various types and personalities that comprise the community of Israel, whose intrinsic unity we emphasize on Sukkot.
To learn more about Sukkot, click HERE or HERE.
Chag Sameach!