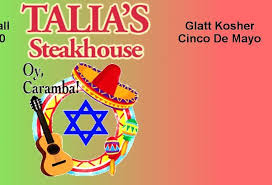 Cinco de Mayo Menu: Click Here
(Menu subject to change without notice)
Experience A Glatt Kosher Cinco de Mayo
For over 16 years on Cinco de Mayo, or the 5th of May, Talia's injects some Glatt Kosher Mexican flavor into the day.
THE SPECIAL CINCO DE MAYO MENU WILL BE SERVED ON SUNDAY, MAY 5TH, 2019.  In addition, Talia's will serve its regular menu.
Cinco de Mayo is the celebration of the Mexican victory over the French Army in 1862 in Puebla, Mexico.
Yeah, that was loooooong time ago. However, you may immerse yourself in a different ethnic Spanish Glatt kosher cuisine and expand your gustatory horizons!Or, treat your non-Jewish Hispanic friend to a Glatt kosher meal, featuring authentic Spanish / Latin dishes like Tacos, Quesadillas, Empanadas, Guacamole, Pico de Gallo, Salsa and more, prepared by renowned Guest Chef Ricardo Gonzales.
Full bar available to enjoy various recipes of margaritas and mojitos, too.
Don't worry if you never tasted those before – come conquer a new cuisine with us!
Corporate Catering Is Also Available.
Call now to reserve: 212-580-3770