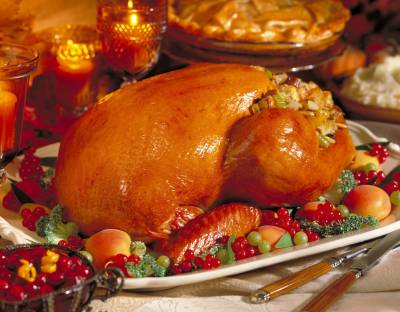 For over 13 years, Talia's Steakhouse & Bar, the premier Glatt Kosher restaurant on the Upper West Side of Manhattan, NYC, has served traditional Thanksgiving feasts with all the trimmings.
Six seating options are available with flexible times.
First seating: 11:00 AM
Second seating: 1:00 PM
Third seating: 3:00 PM
Fourth seating: 5:00 PM
Fifth seating: 7:30 PM
Sixth seating: 10:00 PM
There will be 2 prix fixe menu options, priced at $59 or $69 per person. Kids menu is also available for $29. Prices are all inclusive, plus sales tax. All menu options include unlimited soda, coffee and tea. The $69 option includes a complimentary glass of house wine. Tired of the bird? Limited a la carte menu will also be available.
For menus, click HERE.
Menus and prices subject to change without notice.
Catering packages are available as well.
The energy, romantic ambiance, and Glatt Kosher gourmet cuisine at Talia's Steakhouse make it the ideal NYC kosher restaurant to celebrate Thanksgiving. Families, groups, and dates are all welcome.
Talia's has been continuously named as a top Thanksgiving meal destination by popular magazines and websites:
CBS: 5 Best Bets for Kosher Restaurants in New York
GO Magazine: Thanksgiving Eats
Culture Mob: Thanksgiving Day 2009 Last-minute Plans in New York City
Talia's Steakhouse's catering servers are fully compensated for such religious events and/or for all on and off-premises catering, banquets, special prix fixe functions and package deals. Prices charged are all inclusive and no part of the price is purported to be a gratuity.
Only sales tax shall be added to the bill.
Please call us at 212-580-3770 to make a reservation.
Talia's Steakhouse & Bar
668 Amsterdam Avenue
(Between 92nd – 93rd Streets)
New York, NY 10025
https://www.taliassteakhouse.com/